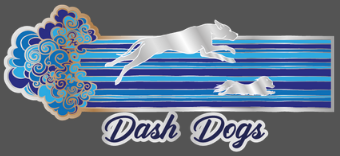 Dash Dogs™ is a new organization that offers Sprint Trials similar to AKC's FAST CAT tests but with some fun new changes! Membership to Dash Dogs™ is always free and it is only $20 for a lifetime registration per dog. Each qualifying run earns points towards titles. All breeds, rare breeds, as well as mixed breeds, are all welcome at Dash Dogs™ events.
Dash Dogs™ offers two track lengths: the standard 100-yard track and a 50-yard track that will be used for our preferred classes. We designed our preferred class with young dogs (6-months to a year old), veteran dogs, and those dogs who have never chased a lure before in mind. The shorter track is a safe and fun alternative for these dogs and can be a great introduction to this fun game of "chasing the bunny"!
Dash Dogs™ allows training on the course and FEO (for exhibition only) run. We adore this sport and want to give the dogs every opportunity to be successful.
Dash Dogs™ will tally and maintain Top 20 rankings per breed – lifetime and yearly – as we work towards regional and National competitions!
2023 Events
Date
Club
Location
Trial Info
Online Entries
results
Photos/Video
January 13, 2023
Dash Dogs
Action Dog Sports
Stone Pony Ranch
Moorpark, CA
2 tests
Dash Dogs Online Entry
January 14, 2023
Dash Dogs
Action Dog Sports
Stone Pony Ranch
Moorpark, CA
2 Tests
Dash Dogs Online Entry
February 4, 2023

AKC Fast Cat
GLASWC
Stone Pony Ranch
Moorpark, CA
2 Tests
Trial Info & Premium
Online Entries
Trial ONE Results
Trial TWO Results
February 5, 2023

AKC Fast Cat
GLASWC
Stone Pony ranch
Moorpark, CA
2 Tests
Trial Info & Premium
Online Entries
Unofficial Trial One Results
Unofficial Results Trial Two
March 4, 2023
Dash Dogs
Action Dog Sports
Stone Pony Ranch
2 Tests
Info & Online Entry
March 5, 2023
Dash Dogs
Action Dog Sports
Stone Pony Ranch
Moorpark, CA
2 Tests
Info & Online Entry
April 15,2023

AKC Fast Cat
VCSWC
Stone Pony Ranch
Moorpark, CA
Test Info & Premium
2 Tests
Online Entry
Updated Unofficial Test ONE results
Updated Unofficial test TWO results
April 16, 2023

AKC Fast Cat
VCSWC
Stone Pony Ranch
Moorpark, CA
Test Info & Premium
2 Tests
Online Entry
Unofficial test ONE results
Unofficial Test TWO results
May 26, 2023

AKC Fast Cat
GLASWC
San Bernardino Soccer complex
Mission Circuit Weekend
Premium & Info
2 Tests
Online Entries
Unofficial results
Photos
May 27, 2023

AKC Fast Cat
GLASWC
San Bernardino Soccer complex
Mission Circuit Weekend
Premium & Info
2 Tests
Online Entries
Unofficial Results
Photos
May 28, 2023

AKC Fast Cat
GLASWC
San Bernardino Soccer complex
Mission Circuit Weekend
Premium & Info
2 Tests
Online Entries
unofficial Results
Photos
May 29, 2023

AKC Fast Cat
GLASWC
San Bernardino Soccer complex
Mission Circuit Weekend
Premium & Info
2 Tests
Online Entries
Unofficial Results
Photos
August 5, 2023

Dash Dogs
Action Dog Sports
Stone Pony Ranch
Moorpark, CA
2 Tests

Online Entries
August 6, 2023

Dash Dogs
Action Dog Sports
Stone Pony Ranch
Moorpark, CA
2 Tests
Online Entries
October 6, 2023

AKC Fast Cat
VCSWC
Stone Pony Ranch
Moorpark, CA
2 Tests
Premium & Trial Info
Online entry

Day One Trial One Unofficial Results
Day ONE Trial TWO Unofficial Results
Day ONE Photos
October 7, 2023
AKC Fast Cat
VCSWC
Stone Pony Ranch
Moorpark, CA
2 Tests
Premium & Trial Info
Online entry
Day Two Trial ONE Unofficial Results
Day TWO Trial TWO Unofficial Results
Day TWO Photos
October 8, 2023

AKC Fast Cat
VCSWC
Stone Pony Ranch
Moorpark, CA
2 Tests
Premium & Trial Info
Online entry
Day Three Trial One - Unofficial Results

Day Three Trial Two - Unofficial Results
Day Three Photos
October 9, 2023

AKC Fast Cat
VCSWC
Stone Pony Ranch
Moorpark, CA
2 Tests
Premium & Trial Info
Online entry
Trial One Unofficial Results



Trial Two Unofficial Results
Day Four Photos
October 21,2023
AKC Fast Cat
SWC

Stone Pony Ranch
Moorpark, CA
2 Tests
Premium & Info
Online Entries
Trial 1 unofficial results
Trial 2 Unofficial results
Photos
October 22, 2023
AKC Fast Cat
SWC
Stone Pony Ranch
Moorpark, CA
2 Tests
Premium & Info
Online Entries
Trial 1 Unofficial results
Trial 2 unofficial results
Photos
November 25, 2023
AKC Fast Cat
SWC
Stone Pony Ranch
Moorpark, CA
2 Tests
Premium & Trial Info
Online Entry
Trial 2 - Unofficial Results
Trial 1 - Unofficial Results
November 26, 2023
AKC Fast Cat
SWC
Stone Pony Ranch
Moorpark, CA
2 Tests
Premium & Trial Info
Online Entry
Trial 1 - Unofficial Results
Trial 2 - Unofficial Results
For more information and to enter Dash Dogs Trials visit www.DashDogs.org